The communications industry's test, monitoring and analytics experts for over 35 years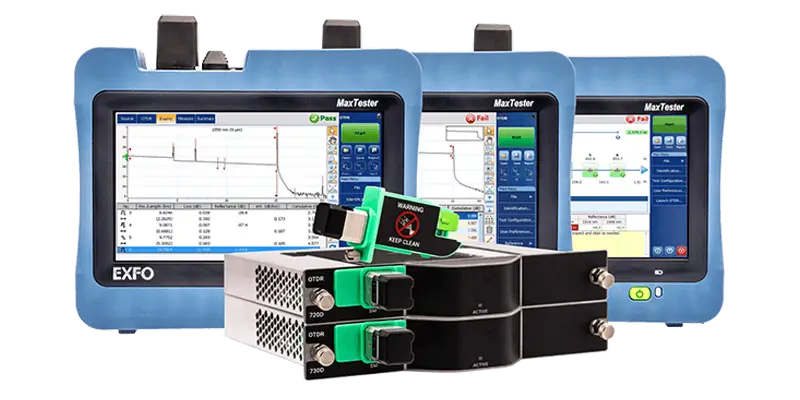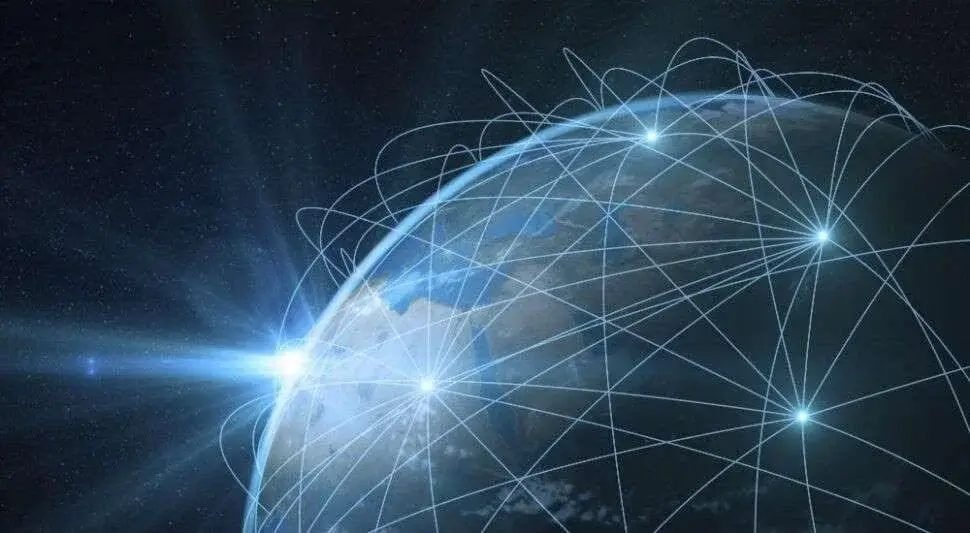 EXFO develops smarter test, monitoring and analytics solutions for the global communications industry. They are trusted advisers to fixed and mobile network operators, hyperscalers and leaders in the manufacturing, development and research sector.
Their customers count on them to deliver superior visibility and insights into network performance, service reliability and user experience. Building on over 35 years of innovation, EXFO's unique blend of equipment, software and services enable faster, more confident transformations related to 5G, cloud-native and fiber optic networks.
Introducing the D-Series OTDR Line from EXFO – The Ultimate Solution for Comprehensive Fiber Network Characterization.
Key Features:
Ideal for Splitter Characterization: Masterfully designed to seamlessly evaluate splitters in PON FTTx and MDU applications.
Wide Range of Applications: Highly efficient for testing FTTx/PON through splitters up to 1×128, activating FTTx services such as GPON, EPON, XGS-PON, 10GE EPON, assessing access networks (P2P), metro links testing (P2P), live fiber troubleshooting, and passive optical LAN (POL).
Advanced Technology: Incorporates cutting-edge technology for efficient and accurate fiber network analysis.
The D-Series OTDR line by EXFO is expertly crafted to meet the rigorous demands of fiber optic network characterization, offering a range of advanced features and capabilities. With its high-performance specifications, this product ensures seamless operation, making it an essential tool in your fiber optic toolkit.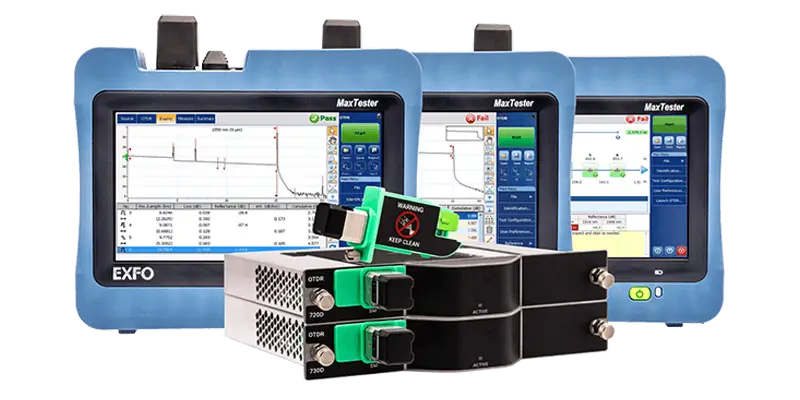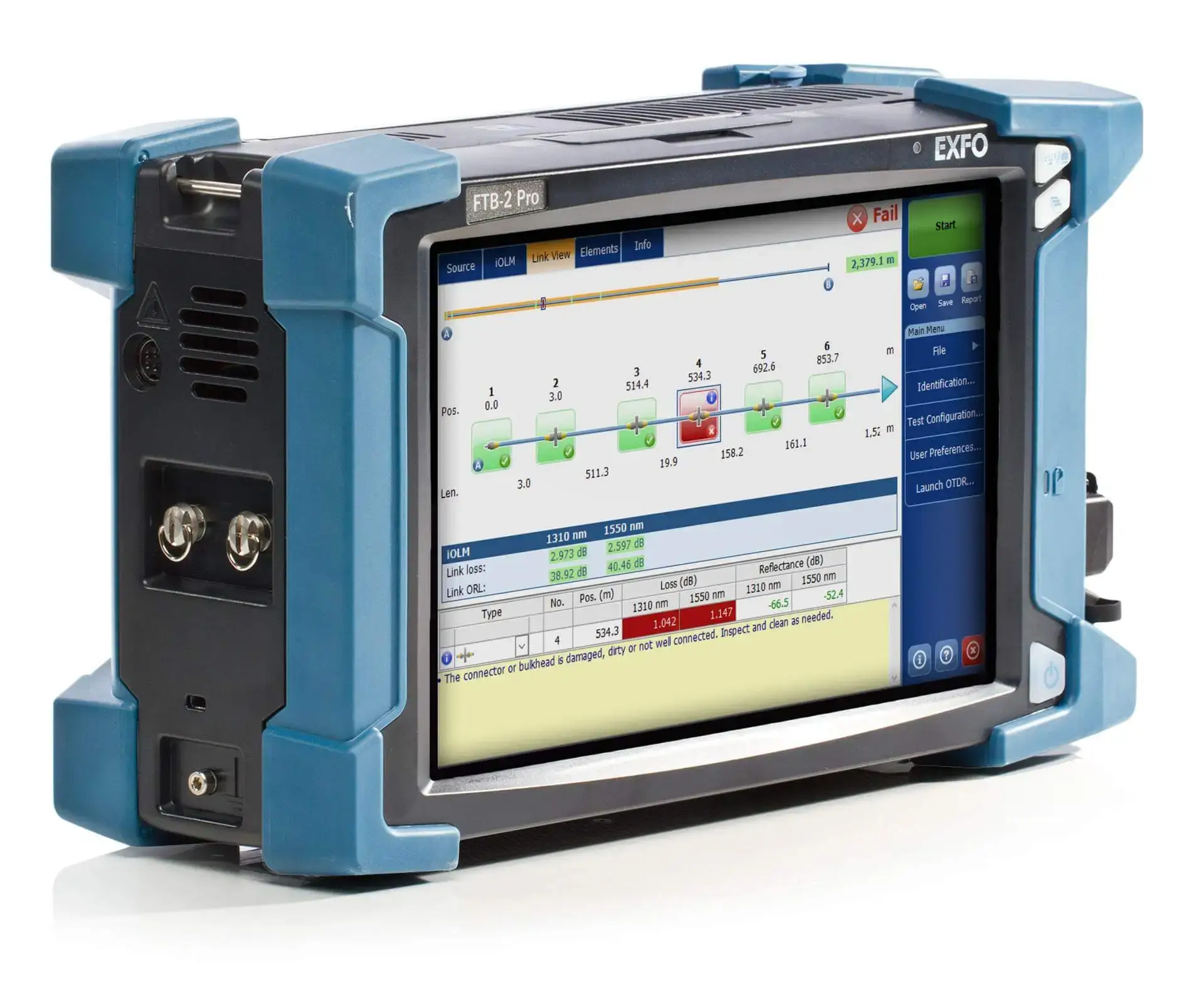 FTBx-730D - PON FTTx/MDU OTDR
Presenting the FTBx-730D OTDR by EXFO – The Premier Tool for Detailed FTTH Network Testing and Troubleshooting.
Key Features:
Optimized for Splitters and FTTH Links: Purpose-built to accurately test through optical splitters and characterize FTTH networks, ensuring maximum efficiency.
Extensive Reach: Capable of characterizing and troubleshooting up to 132 km point-to-point (P2P) links, with a dynamic range up to 39 dB.
High-Resolution PON Testing: Offers the highest resolution for PON testing, allowing for precise detail detection.
Minimized PON Dead Zone: Has the industry's shortest PON dead zone, enabling the detection of issues closer to the splitter.
Proven Performance: Industry-leading in characterizing double-stage splitters and closely spaced events.
User-Friendly Interface: Incorporates an intuitive graphical user interface for seamless operation.
With the FTBx-730D OTDR, EXFO provides field technicians with a reliable, high-performance tool designed to deliver precise, detailed results when testing through splitters and troubleshooting FTTH networks. Offering a host of advanced features, the FTBx-730D is designed to enhance efficiency and accuracy in the field.
MaxTester 730D - PON/metro OTDR
Entry-level solution designed for all your testing needs
Key Features:
Optimized for Splitters: Engineered to test through optical splitters up to 1×128, ensuring thorough end-to-end FTTH characterization.
High Dynamic Range: Appropriate for metro P2P testing, courtesy of its high dynamic range.
Out-of-Band, Live Testing: Features 1650-nm, out-of-band live testing capabilities, enabling efficient troubleshooting of active networks without disrupting the signal of other clients.
The MaxTester 730D (MAX-730D) by EXFO is a robust PON/metro OTDR designed to deliver reliable performance and comprehensive testing coverage. Optimized for testing through optical splitters and tailored for metro P2P testing, it stands as a comprehensive solution to meet all your testing needs. Its out-of-band live testing capabilities ensure efficient and non-disruptive troubleshooting of active networks. With the MAX-730D, EXFO offers an entry-level solution that doesn't compromise on performance or versatility.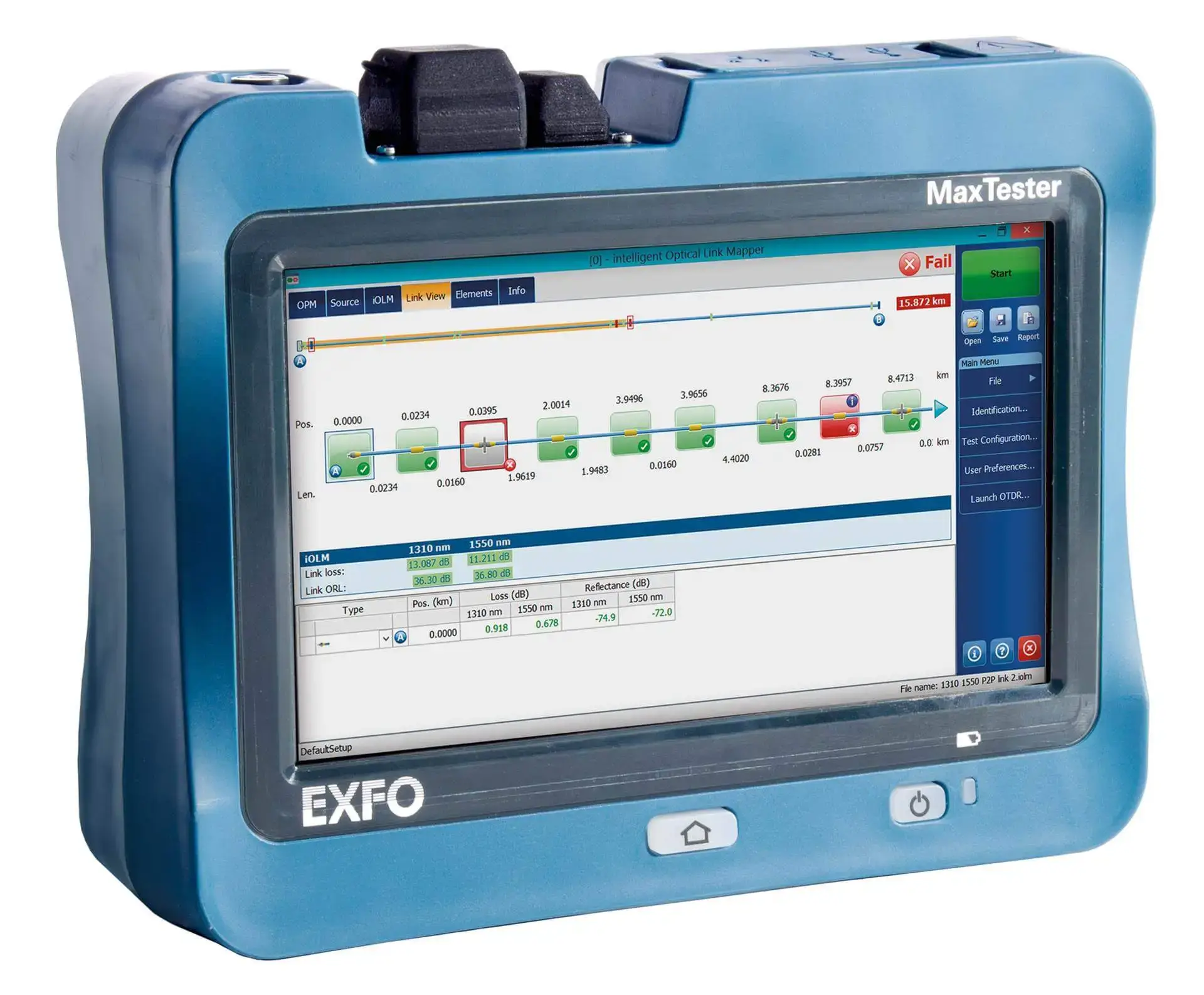 Shop the entire EXFO product line