Built for real work.
Powerful printers and labelers purposefully engineered for real jobs, real demands, and real environments – with reliability and support that's undeniably Brother.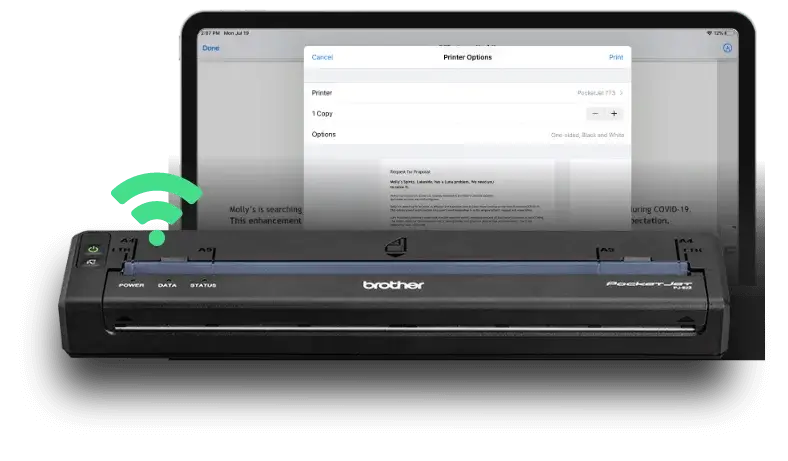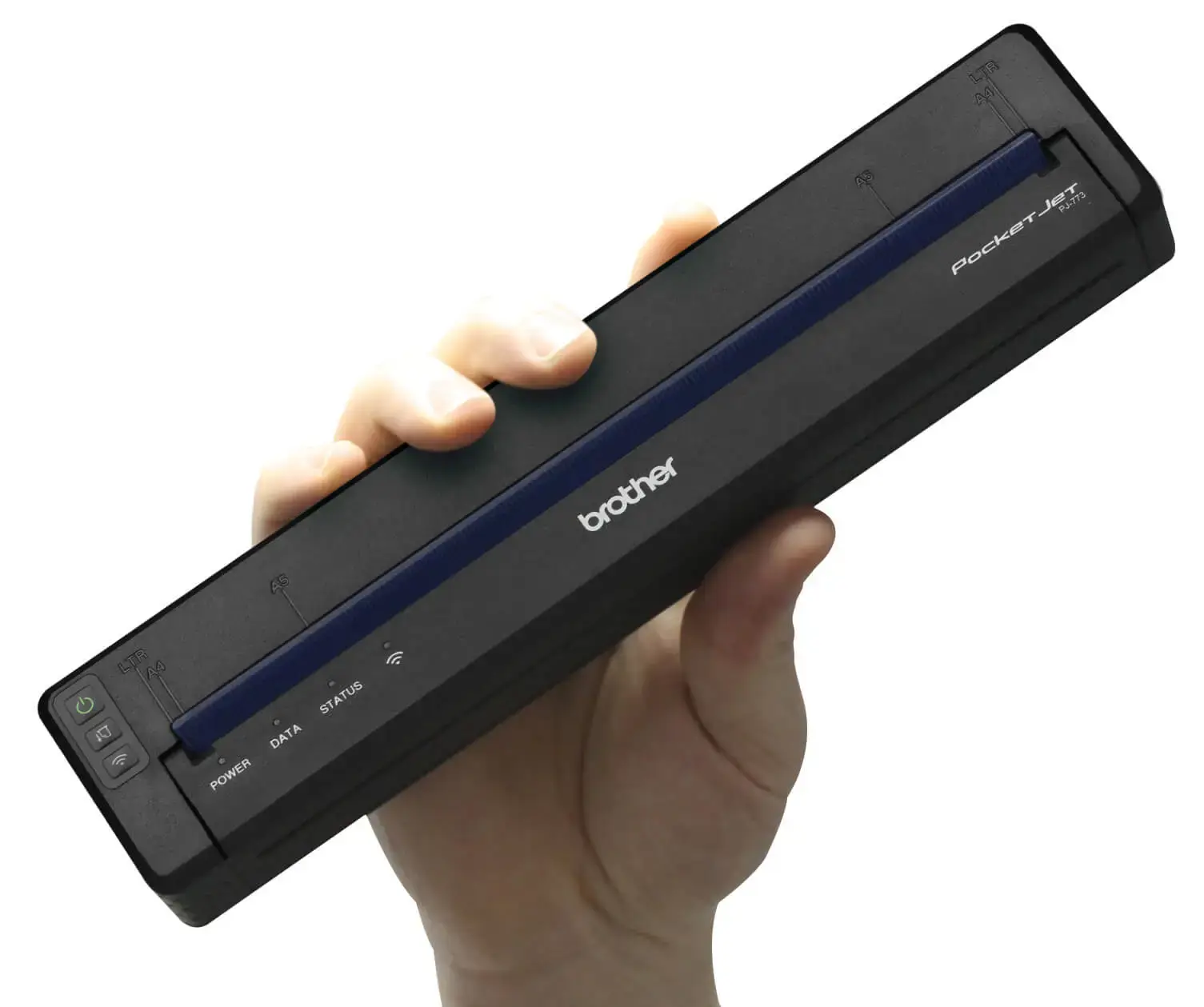 Brother Mobile Solutions, Inc. pledges to be "at your side" with its innovative technology designed to revolutionize the way people work. Renowned for its exceptional printing and labeling solutions, Brother Mobile Solutions goes above and beyond to foster success, fueled by its unwavering commitment to top-tier quality standards and lifetime customer support. Each product emerges from rigorous testing procedures, ensuring the delivery of best-in-class solutions every single time.
Offering both pre- and post-sales support, integration services, and industry-leading warranties, Brother Mobile Solutions truly embodies the "at your side" philosophy. The company embraces the unique needs of each customer, offering a wide array of convenient customization options, from custom app development and software integration to specialized supplies and mounting options. Driven by an intrapreneurial spirit, the Brother Mobile Solutions team works passionately to address the challenges faced by its customers. Under the leadership of President Dave Crist, the company prides itself on fostering innovation and growth, continuing its significant contributions to enhancing productivity and efficiency across industries.
Portable Industrial Desktop Label Printer with Full QWERTY Keyboard and Wi-Fi®
Key Features:
Handheld Portability: Combines the flexibility of a mobile printer with the sophistication of a desktop printer for seamless on-the-go operations.
Full QWERTY Keyboard: Facilitates convenient text input for quick and easy label creation.
High-Quality Labels: Create professional laminated labels up to 36mm, inclusive of barcodes and QR codes, effortlessly.
Wi-Fi® Connectivity: Enables printing from cloud-based databases or apps for added convenience.
Custom Label Design: Use P-touch Editor design software to customize your labels and print from your PC via a standard USB connection.
Storage Compartment: Provides a dedicated space for extra tape storage.
The EDGE PT-E800 is not just a label printer. It's a versatile solution that combines mobility, advanced features, and high-quality output into one compact package. Enhance your labeling efficiency and productivity today.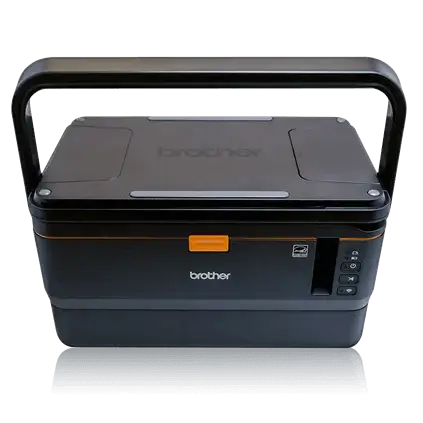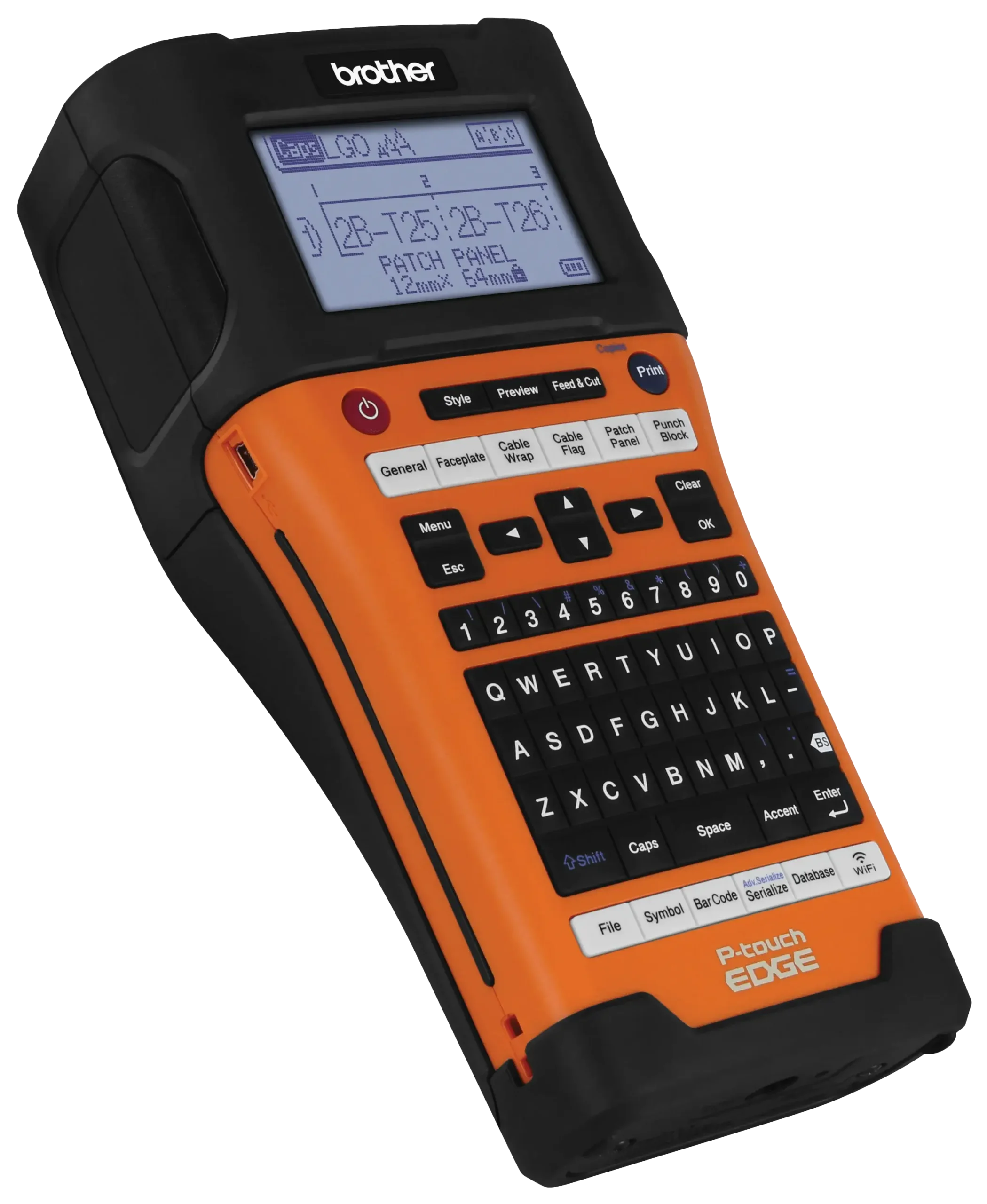 Handheld Industrial Label Printer with Wi-Fi® and Auto-Cutter (up to 24mm labels)
Key Features:
Handheld Design: Specifically crafted to manage industrial labeling tasks with unmatched efficiency.
Up to 24mm Labels: Create and print labels of up to 24mm seamlessly.
Wi-Fi® Connectivity: Print labels directly from apps or your PC, enhancing convenience and productivity.
Auto-Cutter: Comes with an automatic half-cut feature for easy label peeling and application.
Full QWERTY Keyboard: Includes a full QWERTY keyboard for simple text entry.
Large LCD Screen: Provides clear label previews before printing.
Barcode and Industrial Application Keys: Streamline your labeling process with preset keys.
P-touch Editor Software: Design custom labels according to your requirements.
Embrace a superior labeling experience with the EDGE PT-E550W, a robust tool designed to make industrial labeling as simple, efficient, and effective as possible.
Handheld Industrial Laminate Label Printer with Li-ion Battery and Carry Case (up to 18mm labels)
SKU: PT-E300
Key Features:
Handheld Design: Expertly built to address mid-sized jobs, MAC projects, and more.
Up to 18mm Laminated Labels: Efficiently create and print laminated labels of up to 18mm, as well as heat shrink tubes.
Li-ion Battery: Includes a rechargeable Li-ion battery, promoting on-the-go productivity.
Carry Case: Comes with a sturdy carry case for safe storage and easy transportation.
5 Quick Application Keys: Allows for easy and quick access to frequently used functions.
Built-In Industrial Templates and Symbols: Comes pre-loaded with industry-standard templates and symbols, saving time and effort.
Barcodes and Advanced Serialization: Includes barcode generation and advanced serialization capabilities for extensive labeling tasks.
The EDGE PT-E300 is a comprehensive labeling kit built with practicality and convenience in mind. It's designed to support your crew in effortlessly tackling a wide range of industrial labeling projects.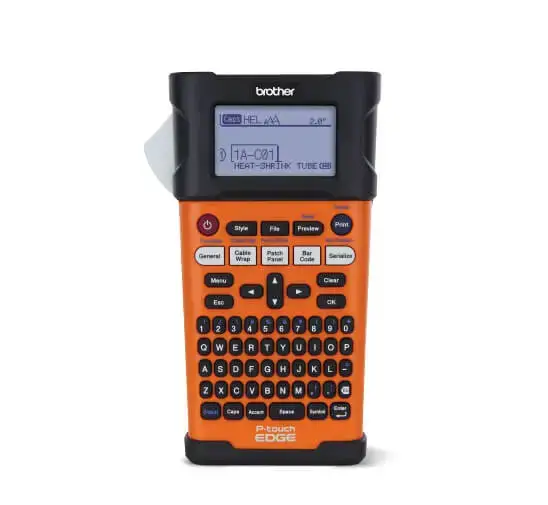 Shop the entire Brother Mobile product line