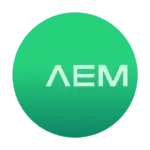 Innovative cabling and component test solutions designed for Laboratory, Manufacturing, and Field Use applications.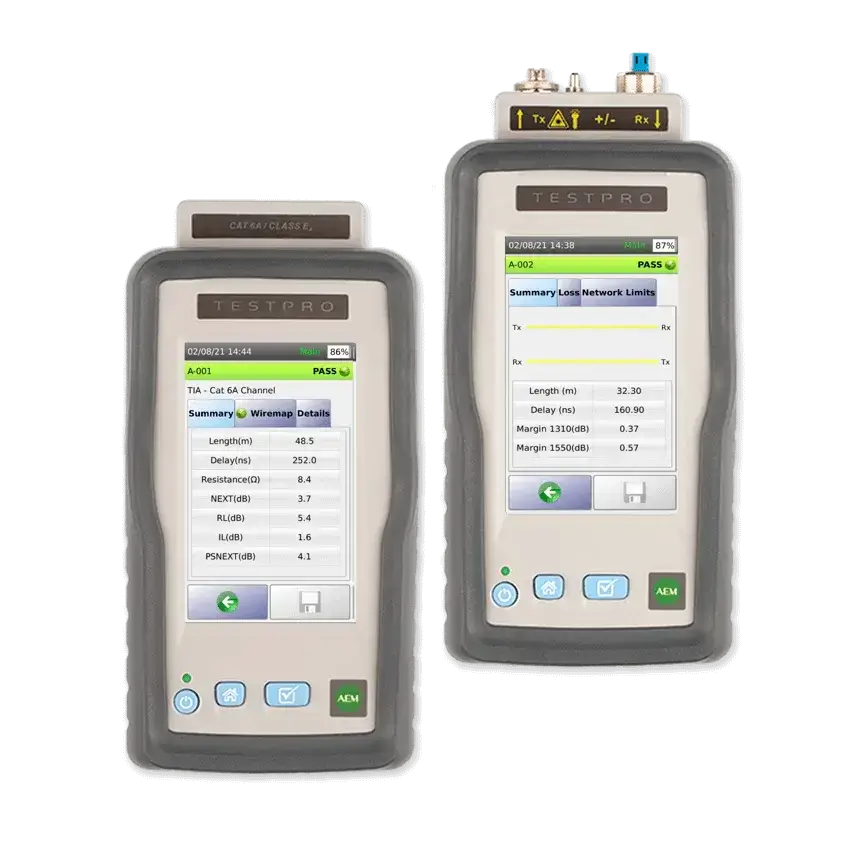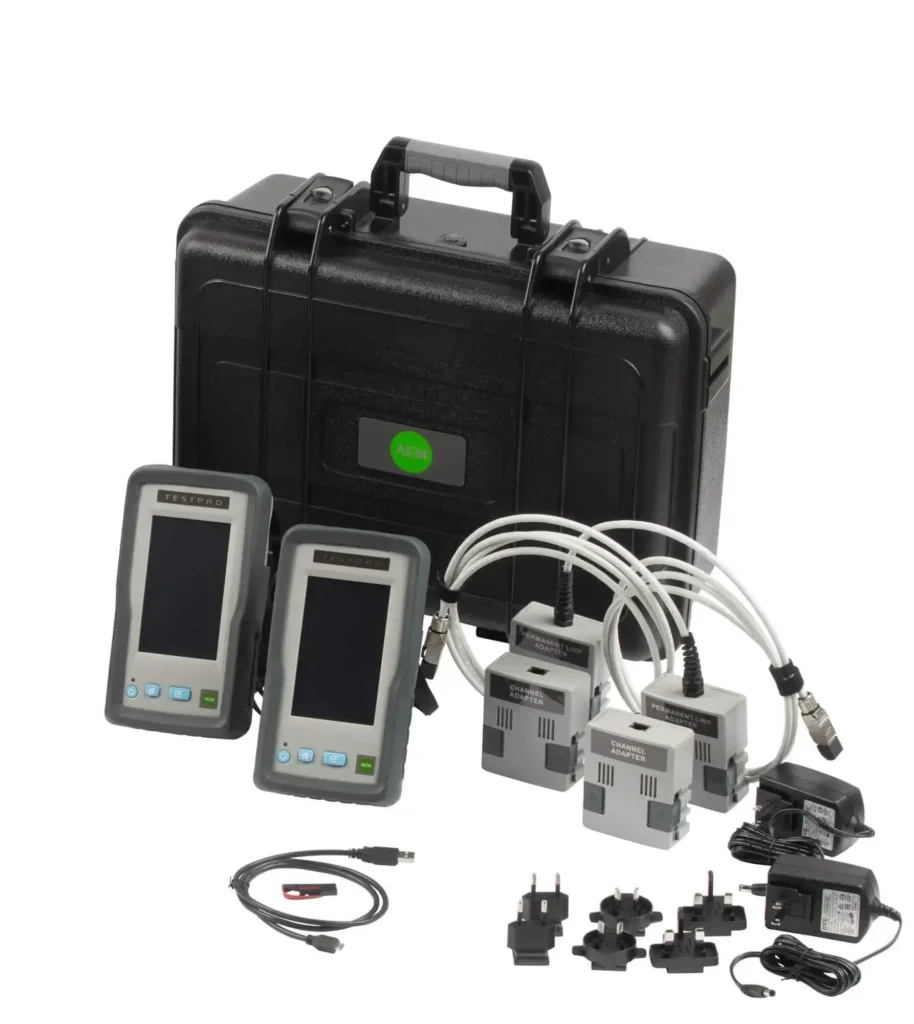 About AEM Precision Cable Test
AEM's Precision Cable Test solutions are the brainchild of the former Agilent Technology engineering team, boasting over four decades of experience in the enterprise and automotive sectors. This team's expertise has facilitated the creation of highly accurate RF measurement systems specifically for AEM Precision Cable Test.
These test solutions have revolutionized the industry by introducing several first-of-their-kind technologies, earning them numerous accolades. Tailored for users at various stages of wiring and connectors' lifecycle, AEM's solutions are optimal for use in manufacturing, laboratory environments, installation processes, and daily network troubleshooting. Additionally, AEM Precision Cable Test solutions also play a crucial role in supporting testing for their Semiconductor test technologies.
Multifunction Cable Certifier
Introducing the TestPro CV100 Multifunction Cable Certifier – your advanced solution for today's sophisticated Smart Building network infrastructure. This award-winning device provides a diverse range of features, making it the most comprehensive test platform in the current market. The modular design of this device allows for custom-tailored testing suites to meet your specific needs.
Key Features:
Purpose-Built: Specifically designed to accommodate the complexities of modern Smart Building network infrastructures.
Feature-Rich: Offers a diverse range of testing options, making it an all-in-one solution for your network certification needs.
Modular Design: Enables customization of the exact test suite you need, enhancing flexibility and efficiency.
Pre-Packaged Test Kits: Comes with Smart Building Test Kits (K60E, K61E, K71E) pre-packaged to meet all your testing requirements.
Harness the power of the TestPro CV100 Multifunction Cable Certifier, the innovative tool that provides a streamlined approach to cable certification for Smart Building networks. It's not just a device – it's your reliable partner in network testing and certification.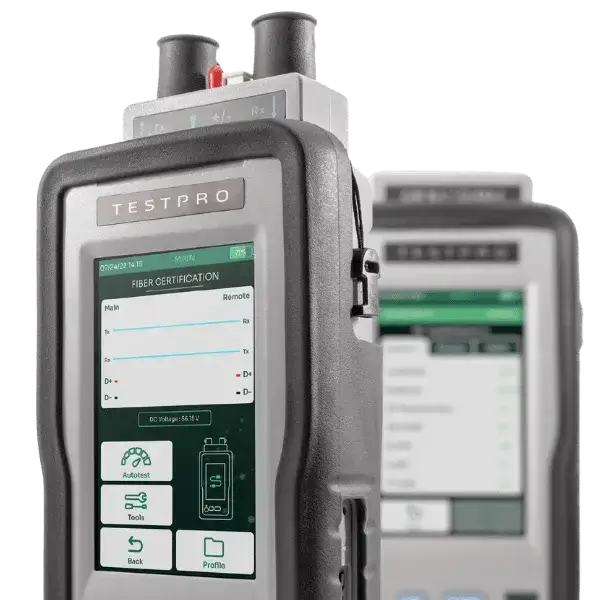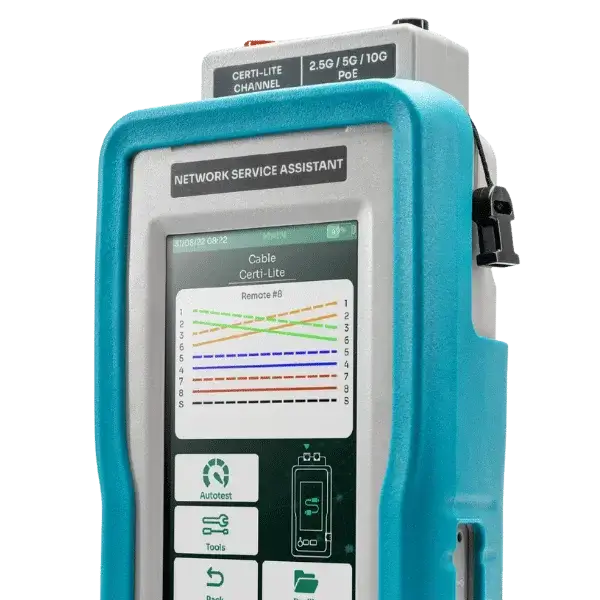 NETWORK SERVICE ASSISTANT
Multifunction Qualification+ Tester
Presenting the Network Service Assistant (NSA) – your comprehensive testing solution that seamlessly bridges the gap between qualification and certification with its innovative Certi-Lite technology. The NSA employs ANSI/TIA 1152-A single-ended testing for numerous parameters used in bi-directional certification. While single-ended testing doesn't meet cable manufacturer warranty approval, the NSA is an ideal choice for those seeking a deeper level of cable testing beyond basic wiremap, without the need for warranty validation.
Key Features:
Certi-Lite Technology: Provides enhanced cable testing by adhering to ANSI/TIA 1152-A single-ended testing standards.
Versatile Testing Solution: Perfect for IT departments requiring robust infrastructure testing to support various applications or facilitate moves/adds/changes.
Cost-Efficient: Eliminates the need for multiple testers, offering wired, wireless, and certification capabilities at a fraction of the usual cost.
Modular Design: As your testing needs evolve or as AEM expands its capabilities (e.g., adding OTDR), the NSA's modular design allows for simple hot-swapping of test adapters, offering an easily upgradeable testing solution.
The NSA stands as a breakthrough in cable testing technology, delivering an affordable, versatile, and future-proof solution designed to meet your ever-evolving network testing needs. It's not just a tool – it's a comprehensive solution designed to enhance your testing capabilities and streamline your network management.
Introducing TestPro Automotive – an innovative tool designed for the effective testing of automotive wire harnesses right within the vehicle. This advanced solution simplifies post-production line testing and troubleshooting, as well as service center diagnostics, eliminating the need for deploying a network analyzer and PC. TestPro's selection of hot swappable test adapters can be tailored to your specific testing requirements.
Key Features:
On-Site Testing: Enables you to carry out testing directly within the vehicle for enhanced convenience and efficiency.
Hot Swappable Test Adapters: Offers a range of adapters that can be swapped on the fly to meet your specific testing needs.
Quick Pass/Fail Indication: Provides immediate feedback on the condition of the wire harness.
Fault Detection: Identifies and reports cable faults, miswires, and open/short issues.
Detailed Metrics: Measures and reports on resistance, impedance, and return loss.
Comprehensive Reports: Produces savable and printable test reports using the included TestDataPro software.
The TestPro Automotive is more than just a tool – it's a versatile solution designed to revolutionize the way you conduct automotive wire harness testing and troubleshooting. With its intuitive design and comprehensive reporting, maintaining your automotive network infrastructure has never been easier.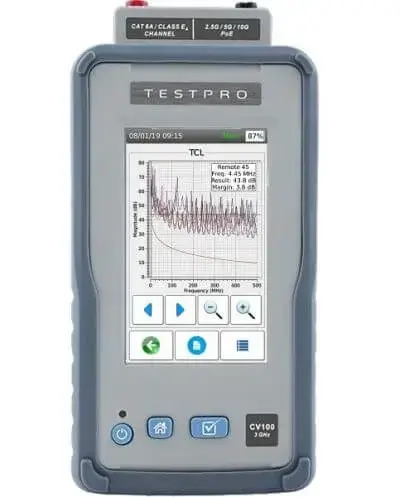 Shop the entire AEM product line